Richards Bay
Overview
PAS provides several services as a shipping agent in South Africa working towards the clients' expectations.
The following port facilities are provided at Richards Bay:
Dry Bulk Terminal
Multi Purpose Terminal
Coal Terminal
Bunkering Points
Diving service for ship inspection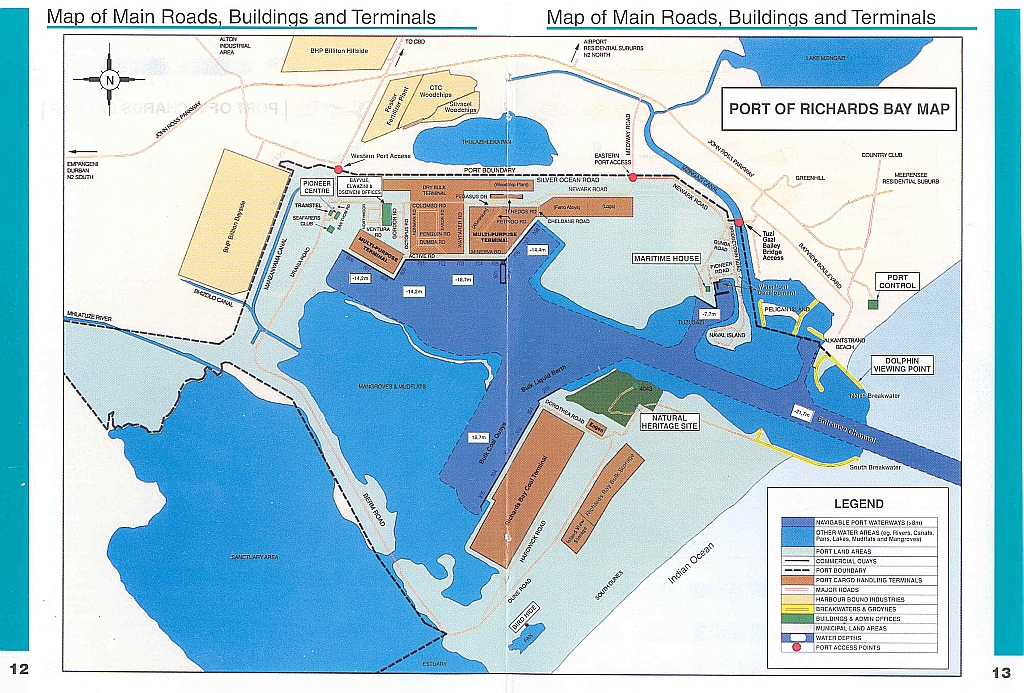 Source: Richards Bay Coal Terminals, 2014.
Port Facilities
Dry Bulk Terminal (DBT)
The Dry Bulk Terminal (DBT) is one of the port operator to have managed to trade around 100,000 tonnes of goods during its first year of operation. The Dry Bulk Terminal is a unique terminal that handles multiple products over its conveyor system. This means to say that no conveyor (or 'conveyor' route : over 40km ) is dedicated to any one specific commodity, and hence, to avoid contamination, belts, transfer points, rail trucks and vessel loaders/unloaders need thorough washing after each loading/unloading of a parcel, before commencing the next product handling.
To this date, DBT manages around 13 million tons of goods per year.
Multi Purpose Terminal
Richards Bay port accomodates the multi-purpose terminal in its deep water situated on the east coast of South Africa. The Multi Puropse Terminal is the result of the merger of both the Bulk Metal Termainal and the Combi Terminal. The Multi Purpose Terminal can logistically manage a variety of cargo types, namely break bulk, neo-bulk and containers.
The Multi Purpose Terminal has a yearly capacity of 5.6 million tonnes and has six berths.
Coal Terminal
The Richards Bay Coal Terminal (RBCT) managed 65,511,540 tonnes of export coal in comparison to the year 2010 which was 63.427mt.
Ships involved with coal trade are handled at six berths (301-306) each of 350m in length and with water depth of 19m and a permissible draught of 17.5m. The adjacent 209 chemical berth is 300m long and has a depth alongside of 14m with a permissible draught of 12.5m.
Bunkering Points
Bunkering is provided by bunker barge or from the chemical and coal berths - berths 209, 301 and 302.
The outer anchorage is situated approximately 3-5 nautical miles south-east of the port entrance. An inner anchorage is available for emergency use only.
Diving service for ship inspection
As a dry dock (floating dock) is still under consideration to be implemented at the Richards Bay port, a fully equipped diving service is available for ship inspection. Ship repair is undertaken at the quayside at the small craft berth, as the port currently has no ship repair facilities.